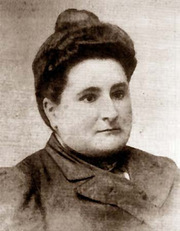 Teresa Mañe Miravent - Mother of Federica Montseny
The following is a translation from Spanish. The Spanish original is available at the
Biografias anarquistas
section of the
website
of the CNT Puerto Real. Any errors of translation are entirely my responsibility.
Born on November 29 1865 in Cubelles (Garraf, Catalonia) - until recently believed to be in Vilanova i la Geltrú- the educator, activist and anarchist propagandist Teresa Mañe Miravent, better known under her pseudonym Soledad Gustavo. Her wealthy family ran the Garden Hotel in Vilanova i la Geltrú, known as the "Three Girls Hotel" as the three daughters of the family were busy attending to customers. Her father was a staunch supporter of federal republicanism and was proud of the relationship he maintained with Pi i Maragall. Teresa began studying teaching in 1883 in Barcelona and in 1886, with the help of the freethinker Bartomeu Gabarro of the Federalist Democratic Centre, opened the first secular school in Vilanova. She was a member of the Confederation of Lay Teachers of Catalonia. During this period she collaborated in El Vendaval with the federalist republican tendency. Through contacts with freethinkers she met José Pujals Lunas, Teresa Claramunt, Tarrida del Mármol, Pere Esteve and other leading anarchist militants. She participated in propaganda tours and public events and collaborated on the libertarian publications they edited (La Tramontana, El Productor, La Tormenta, etc.). In 1889 she won a prize at the Second Socialist Contest in Barcelona for her work 'Free Love' and became a spokeswoman for anarchist ideas along with Ricardo Mella, Anselmo Lorenzo and others. Through a poetry reading at a secular funeral she met Juan Montseny whom she later married in a civil ceremony on March 19, 1891, shortly after such marriages were legalized.
The couple settled in Reus where Montseny came from, and they opened a coeducational secular school and both became teachers. Teresa's sister Carmen also lived with them in Reus, sharing all the difficulties of their anarchist activism until her death. Montseny wrote a pamphlet in defence of prisoner Paulino Pallas who had been arrested in connection with the September 24, 1893 bombing of the Cambios Nuevos in Barcelona. Montseny was arrested for this, and Mañe began a campaign for his release. Once released, however, he was rearrested in 1896 as part of the 'Trial of Montjuic'. From his cell in Montjuic Montseny wrote letters to the press, with various pseudonyms, proclaiming the innocence of the accused. Mañe was responsible for taking these letters from prison and mailing them to the press. She also made the necessary arrangements to achieve the release of all detainees. It was from one of his signatures to these letters that Juan Montseny became Federico Urales. Montseny was released but was exiled to London, along with Teresa Claramunt and Tarrida del Mármol. Mañe joined him in 1897 and found work as an embroiderer. In order to reopen their case they returned clandestinely on November 28, 1897. Montseny lived in Madrid and Mañe in Vilanova. In a short while she, along with her parents, Lorenzo and Antonia, and her sister Carmen they also moved to Madrid. While they lived there her parents died, and her daughter Federica Montseny was born in 1905.
While in Madrid the couple edited La Revista Blanca (1898-1905) and later Tierra Y Libertad (1902-1905). Mañe performed the function of administrator even though this was not legally permitted to women at the time. In 1901 she spoke, along with Azorín and Urales in a series of conferences at the Madrid Ateneo on "The Future Society" in relation to anarchist ideas. In addition she actively participated in campaigns for the defendants in the Juarez Trials and the Mano Negro case. She participated in a tour of Andalucia in this defence camaign, staying at the home of Rosa Sanchez. The couple also actively assisted in the defence of Francisco Ferrer i Guardia wrongly accused of responsibility for the events of La Semana Trágica. When a legal conflict with Arturo Soria, the creator of the 'Ciudad Lineal of Madrid whom they accused of fraud and deception, broke out they left for Catalonia in 1912. Their intention was to found an academy in Barcelona's Horta district, but the boycott of local reactionaries led them to devote themselves to living on a farm in Cerdanyola. There Mañe did a lot of translations (Louise Michel, Cornelissen, Labriola, De la Hire, Mirabeau, Praycourt, Sorel, Marguey, Lichtenberg, Lavrov, Donnay, etc.) and copied texts for theatre companies.
In Catalonia they once more edited La Revista Blanca and Tierra Y Libertad. They also set up various other publishing projects: 'La Novela Ideal' which published two novels, eventually 600 in total with a circulation of 50,000 copies; 'La Novela Libre' with more extensive stories and a circulation of 30,000 copies, the monthly 'El Munda al Dia' and a new journal 'El Luchador' which lasted until the civil war. Mañe was responsible for managing these journals while Montseny and her daughter wrote articles, novels, memoirs, etc.. Little by little the leadership of Federica became evident, and Mañe faded into the background. During the Civil War colon cancer began to undermine her life. In 1939 the family crossed the border into exile in France where they parted from each other. Mañe, ill, broke her leg and was taken by ambulance to the hospital of St. Louis of Perpiñán (northern Catalonia) where she died alone of cancer on February 5, 1939.
Teresa Mañe published numerous articles in La Revista Blanca and in its supplements and extras. Her contributions may also be found in other anarchist periodicals of the late 19th and early 20th centuries: 'El Corsario', 'Los Dominical del Libre Pensamiento','El Obrero', 'Redención', 'El Cosmipolita', 'Justicia y Libertad', 'El Trabajo', 'La Tramontana', etc.. Of her works we can highlight 'The Future Society' (1889), 'Las Preocupaciones de los Despreocupados' (1891 with Urales), 'Dos Cartas' (1891), 'A Las Proletarias' (1896), 'El Amore Libre' (1904), 'Los Diosas de la Vida' (1904), and 'El Sindicalismo y la Anarquía: Politica y Sociologica' (1932) among others.